November 11, 2006
Today is Veterans Day and I couldn't be happier to be with my veteran. We met up with the 101st liaisons and headed downtown for the festivities. We went to the 101st memorial at Arlington Cemetery where Bryan and several other wounded soldiers laid wreaths on the Memorial. Bryan was asked to lay a wreath on the memorial. He said yes, I assumed he would roll his wheelchair up there but he insisted on walking.Bryan is still pretty wobbly at this point so someone walked with him to make sure he didn't fall. It was great to watch him lay a wreath on that memorial and salute. It sent chills up my spine.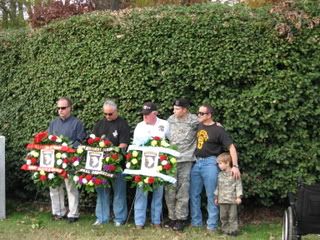 Then we headed over to the Vietnam Wall. Bryan was stopped literally ever minute by vets or other people and they were thanking him for his service. At one point there was a line of people waiting to shake his hand. It was a beautiful sight seeing Bryan in uniform still in his wheelchair and people bending down to hug his neck. They didn't know him but they appreciated him greatly. Bryan was also interviewed by Channel 2 news station and he did an excellent job explaining his injuries and what Veterans Day meant to him.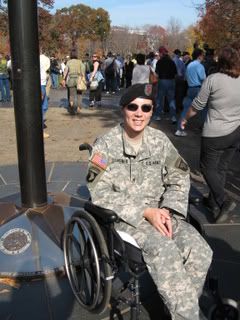 We went to the wall for the ceremony and listened to Taps. It made tears come into my eyes because Taps is emotional and to think that Taps could have been played for my soldier had his soldiers not saved his life. I am so blessed that Taps was not played for him. When the national anthem was played Bryan stood up out of his wheelchair. I helped him walk around to the back so he could hang on the handles. He stood there and saluted his flag. I captured this picture later I noticed that in the background there was another older veteran saluting the flag as well. As we were saying the prayer a photographer was snapping pictures of Bryan.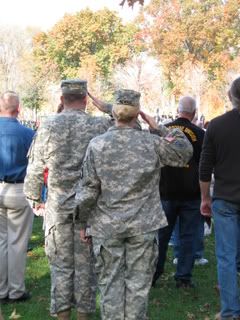 After the ceremony we headed down to the wall to see the 101st wreath. Once again people were stopping him and thanking him. It was such a great thing to witness. Afterwards we headed to the Hilton in Arlington to have dinner with 101st Airborne Veterans. It was a great evening to spend time with them. This was a day that I will never forget. It lifted my spirit and eased my soul.